I finished the piece and even thought up a pretty title. Mummy and Daddy, hope you like!
The Dance of a Child Escapes Time
Tools:
Photoshop CS4, Wacom Graphire4, Straw Paper
WIPs: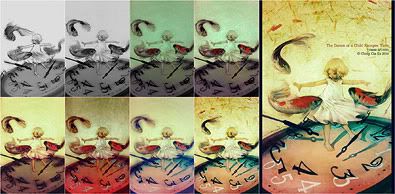 Link to deviation:
[
link
]
Also, there's a one-page feature of my work in this month's ImagineFX issue. I saw it at Borders but it's so expensive! (15.99 USD + tax = RM60.52) *hyperventilates and dies* But
Jon Woodward
was kind enough to send me a scan of that page. :D
I met a whole bunch of crazy students from the Academy of Art on Monday. (There were 10 of us in total, sketching at the cafe at Borders.) It was totally awesome meeting a group of people who share the same passion! I feel quite intimidated too- they're all so good at what they do. Me, I still need to work being able to draw in front of others. I'm terrible at performing under pressure.
Been doing a lot of thinking too, about whether or not I want to further my studies and eventually lead a life here. I think I'm going to apply for the graduate program.