I hope everybody's enjoying their summer break! I had the opportunity to visit Hokkaido with my family but fell quite sick on the trip and lost my hearing in one ear for two weeks after that. Still it was absolutely wonderful - the people, the air, the water, the flowers, the food, and bathing in the hot springs... it was exactly what I needed. Here are some pictures I took on the trip!
I'm in LA right now with fellow artists
Isabella Kung
,
Arthur Lin
and
Lois Wang
. The SCBWI conference officially starts tomorrow and everyone's excited! For review purposes, I had put together little portfolio of work mostly done in the past year including some silly sketches I did over the summer.
Oh and here's a little something I painted to cheer my dad on for his swimming competition. He had just turned 60, and was born in the year of the Rabbit. He hit me on the head when I gave it to him! Haha, I could tell that it totally made him happy though.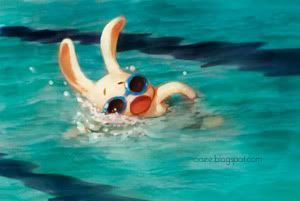 He won. 8D