Part of a conversation with a dear friend.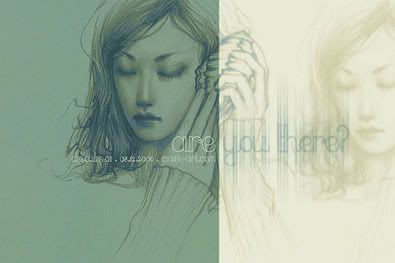 are you there?
The image of a girl listening to a seashell just came to me out of nowhere and the mood and atmosphere struck so clear that I had to draw it. Watching all 25 episodes of Soukyuu no Fafner in one sitting gave me the inspiration for the title, "are you there?"
(anata wa soko ni imasu ka?)
which is a recurring question throughout the series. The anime explores concepts like existence, choices and nothingness and although I'm not crazy about the art, the story was good and I really enjoy thought-provoking themes.
This piece isn't popular on deviantART, but I'm very proud of it. :)
Tools:
2B Pencil, Photoshop CS3, Wacom Graphire4
Typeface:
Peach Sundress by the incredibly young (19!), talented and generous
Teagan White
Process: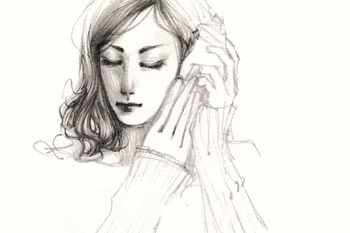 I was invited as a guest artist to paint something for this year's Comic Fiesta 100 Days Countdown!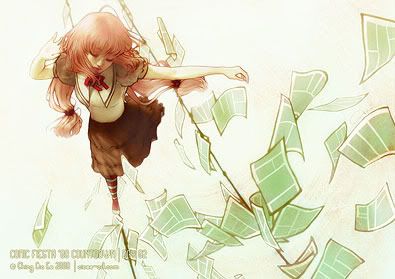 CF 2009 - Linedanser Coffy
This is Coffy, one of the event's mascot. (I took some liberties- her ears? I ate them.) You can read about Coffy and Tea here: [
link
]
I'll be having a table at Comic Fiesta this year, and I'm really excited because it's my first time ever! I'm busy making some last minute preparations now and I want to kill myself for not starting earlier.
Tools:
Photoshop CS3, Wacom Graphire4
Process:
The entire painting process looks so easy in the GIF! Gah. I swear, I spent almost an entire 24 hours just getting those fucking comic sheets right.