Skin tone study..... sort of. Used the technique learned during Week 2 in Digital Painting class at
Schoolism
. Wasn't aiming for anything realistic, but hopefully I got the skin tones and facial features resembling real life enough for someone to be able to tell their ethnicity. Still haven't thought of a title. Actually, let's just stick to Armless Midgets. It sounds kinda weird and that's perfect. Oh and I showed this to
Roden
, and he said that only the girl on the left looks cute and that the other two look old. DDDD: Niuuu...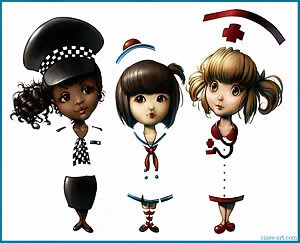 click for full-view

Favorite parts of the painting: the Caucasian girl's hair, the East Asian girl's eyes, and the African girl's skin tone and lips. :D
Here's a gif I made in case anyone wants to see how the painting was made.
[Update on critique for Lesson 1: None! asdafdasfasdf.]