Participated in ConceptArt.Org's Character of the Week (CHOW #146) challenge. The competition for this round is like... woah, intense. Be sure to cast your votes for your favorite entry at: [
link
]. (You need to be registered and logged in to vote.)
This week's topic:
'Queen Titania'
Titania is a very proud creature and as much of a force to contend with as her husband Oberon. Due to an enchantment cast by her husband's henchman Puck, Titania magically falls in love with a rude mechanical (a lower class laborman), Nick Bottom the Weaver, who has been given the head of an donkey by Puck, who feels it is better suited to his character. Full story: [link] (Source: Wikipedia)
On my entry:
I wanted to portray as closely as possible what I felt fairies were like, so here's Queen Titania and Nick Bottom('s head).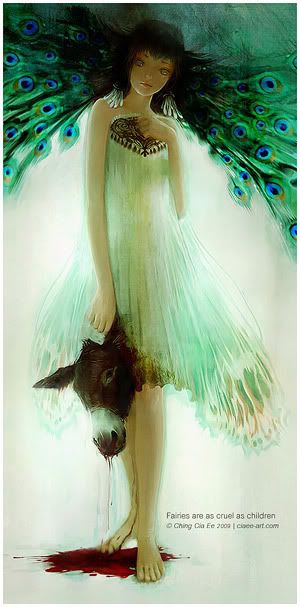 Fairies are as cruel as children.
In my imagination, fairies are innocent and whimsical as well as selfish, remorseless and vengeful. They're very much like children. In this painting, I took some liberties with the original story and character from Shakespeare's play, and wanted to create a "fairytale gone wrong" image. I tried to keep her quite childlike and innocent-looking, and I hope I succeeded in making the painting feel little disturbing. (I've always found innocent children in horror movies/ghost stories extremely creepy and scary, and I want to put a bit of that in here.)
I recently acquired the book "FABLES: Covers by James Jean" (present from sister - best art book ever), and his work was on my mind the whole time when I was trying to create this image.
Disclaimer:
Um, I do not promote animal-cruelty.
Tools:
Photoshop CS3, Wacom Graphire4
WIPs & Close-up: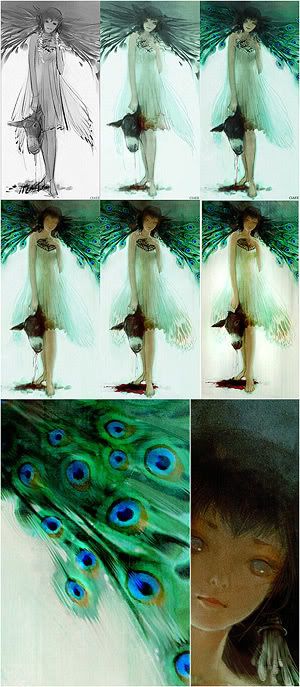 Painting this was an exciting, fun, stressful, excruciating and rewarding experience. On the side note of things, I cut my hair! I've discovered my love for short hair and I can't see myself growing it out anywhere in the near future. Sooo much less hassle and it feels amazing- all nice and breezy. C:
So what else did I do in year 2009? Pretty much nothing. Asdfsfsdfsfsda. I can't believe it's February already. Oh, I updated the look of my website. [
link
]